Accessing the CEM UI
After you start the Edge Flow Manager (EFM) server, you can bring up the Cloudera Edge Management (CEM) User Interface (UI) in order to build, edit, and publish dataflows. You can also monitor the EFM server and MiNiFi agent events by accessing the CEM UI.
To get started, open a web browser and navigate to http://<hostname>:10090/efm/ui. The port can be changed by editing the efm.properties file in the EFM conf directory, but the default port is 10090.
The UI opens and displays the Deployment Monitor screen, as shown in the following image: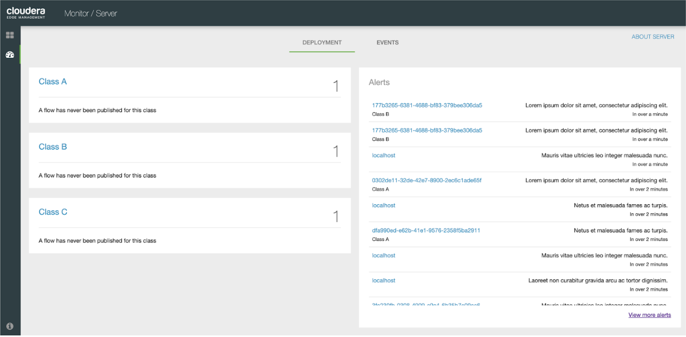 The first column, from the left, displays the classes available in the system. The classes allow you to create a single configuration template for multiple agents.
The Alerts column displays the alerts available in the system. To view more alerts, click the View more alerts link.
To fetch details about the C2 server, click the About Server link. The About This Server dialog displays the server URL, registry URL, registry bucket ID, and registry bucket name.