CDP Public Cloud
CDP Private Cloud
Applications
Legacy
Getting Started with CDP Public Cloud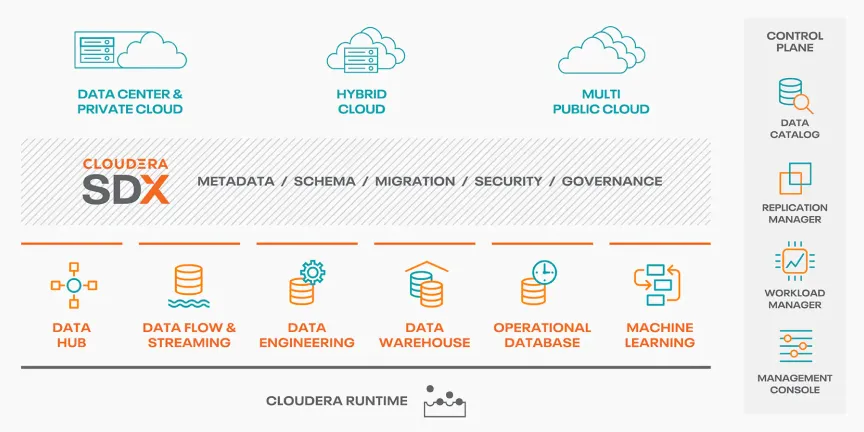 Cloudera SDX is the security and governance fabric that binds the enterprise data cloud. SDX delivers an integrated set of security and governance technologies built on metadata and delivers persistent context across all analytics as well as public and private clouds.
CDP Patterns
CDP Patterns are end-to-end product integrations, providing validated, reusable, solution patterns that expedite delivery of your business use cases.
Preview Features
Learn about preview features related to onboarding, Data Warehouse, Diagnostics, Governance, Machine Learning, Management Console, and more.
Latest updates
We regularly update release notes along with CDP Public Cloud functionality to highlight what's new, operational changes, security advisories, and known issues.
Every month, we summarize notable new features, changes, and improvements across all of CDP Public Cloud.
We've collected the most requested and most performed tasks for each CDP Public Cloud Data Service to help you get started and learn practical new techniques.
Getting Started with CDP Private Cloud
Latest Updates
Release notes are updated with every CDP Private Cloud release—and as needed between releases—to highlight what's new, known issues, fixed issues, security advisories, behavioral changes, and component versions.
We summarize notable enhancements, new features, changes, and improvements with each release of CDP Private Cloud Base.
Latest updates
Cloudera Edge Management 1.5.1 contains new features, performance improvements, and bug fixes. It provides Depends On property descriptor functionality and it supports using session tokens to configure AWS S3 access.
The 7.1.1 release of Cloudera Data Visualization contains performance, usability and security enhancements. It provides new settings for hiding the trellis labels for KPI visuals, regular deletion of job logs, and Impala and Hive connections now stream CSV/XLS downloads.
In Data Science Workbench 1.10.3, Applied ML Prototypes provide prebuilt models so you can learn how the different parts of CML work together and so you can tailor them for your custom projects.