CDH Overview
CDH is the most complete, tested, and popular distribution of Apache Hadoop and related projects. CDH delivers the core elements of Hadoop – scalable storage and distributed computing – along with a Web-based user interface and vital enterprise capabilities. CDH is Apache-licensed open source and is the only Hadoop solution to offer unified batch processing, interactive SQL and interactive search, and role-based access controls.
CDH provides:
Flexibility—Store any type of data and manipulate it with a variety of different computation frameworks including batch processing, interactive SQL, free text search, machine learning and statistical computation.
Integration—Get up and running quickly on a complete Hadoop platform that works with a broad range of hardware and software solutions.
Security—Process and control sensitive data.
Scalability—Enable a broad range of applications and scale and extend them to suit your requirements.
High availability—Perform mission-critical business tasks with confidence.
Compatibility—Leverage your existing IT infrastructure and investment.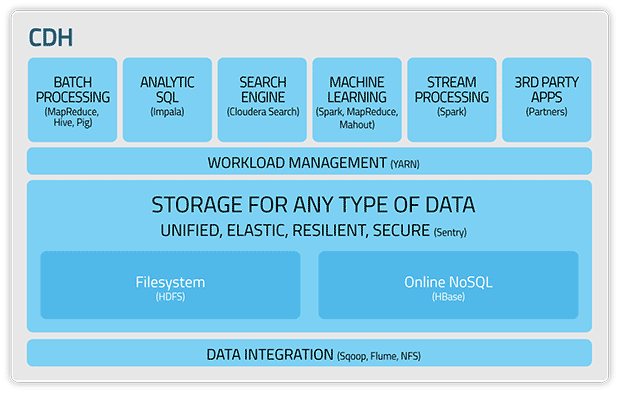 For information about CDH components which is out of scope for Cloudera documentation, see the links in External Documentation.